Frequently Asked Questions on how to use InLinkz
How can I add the time for opening and closing the LinkUp. I cannot see a clock!
As soon as you click on the date you want, the clock will pop right up!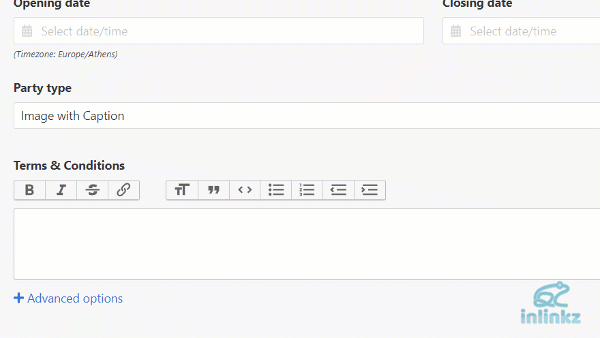 ---
I can see some entries in my LinkUp that are not there when I go to my dashboard. What are these?
Free accounts are ad-supported and the links you see are ads. These keep the service free and you cannot remove them. If you upgrade your account, the ads are instantly removed. When your account expires or you fall back to the free plan, the ads are re-added to your LinkUps.
---
How can I set up InLinkz to send me an email whenever a user adds a link to one of my linkups?
Click the profile icon (1) and select Settings from the drop down menu (2).
Click on Email Preferences from the settings sidebar (3).
Select the frequency option that reflects your needs (4).
Click Save changes (5).

---
How to make a linkup's background transparent?
Click to create or edit an Inlinkz link party.
After having set up the basic information, click to expand the +Advanced options.
Select to Use Transparent Background.
Click to create/ save.
Here is how a Inlinkz link party looks like with a white background:
And here is how it looks with a transparent background:
---
Why some new submitted links are hidden from my link party collection?
If you have enabled the require backlinks option from the +Advanced options while creating your party, then, each time a entrant submits a link that doesn't comply with this ruleset, this link won't be displayed in your collection, until you moderate it.
Once you approve that link, it will be displayed normally in your party. Of course, you have the option to remove it from your collection and permanently delete it from your collection.